Empower your soul workshops and events
If you cannot make the date of a particular workshop, do contact me if you would like to be
added to the ​wait list for the next one or if you would like to arrange a
​private workshop for you and your friends.
---
Well Being Festival
I am delighted to be offering a limited number of
Soul Coaching Readings
at the
Well Being Festival
, Crookham Village, Hampshire GU51 5SJ on
Sunday 24th September.

Energy exchange £20 for 20 minutes.
Please contact me to pre-book a time slot.
I will also be giving a free talk at the event on
Soul Healing in the Akashic Records.


There will be a charity raffle at the event raising funds for Sasha's Project, a local charity helping young people with mental health and well-being.
Raffle tickets can be purchased by contacting Tracy or Lizzy (contact details below).
---
FREE Zoom Event
MESSAGES FROM THE ANGELS
On Monday 16th October 2023 at 7.30pm I do hope you can join me on Zoom when I will be passing on
Messages from the Angels
for your highest good, as well as some tips and information about connecting with the Angels.
​
Please
contact me
to register your interest in this event.
You will be emailed the relevant link nearer the event date.
---
BECOME A RAHANNI PRACTITIONER​Learn how to use Rahanni Celestial Healing
for your own well-being and to help your family, friends or clients.

This is a certified one day Course.
​Full details here
​
Next dates:
Saturday, 4th November
2023
– 2 spaces
Saturday, 16th December 2023
- 2 spaces
Contact me
to discuss the course or alternative dates
---
Meet Your
SPIRIT GUIDES
​WorkshopSaturday, 18th November 2023
Visit my
shop here
for more information
​
---
Further Workshops Below
Contact me to register your interest:
​
ANIMAL SPIRIT GUIDES - MEET YOUR POWER ANIMAL
Learn to recognize animal signs and how to decipher their messages.

​Receive your own personal animal totem!
​
Journey to meet and connect with your Power Animal and discover how they are helping you and what your power animal tells you about your characteristics and purpose. Receive messages that can offer you guidance as to your path in life.
Next dates to be confirmed.
Contact me
for more information
---
SIGNS FROM THE UNIVERSE
The Universe is always 'speaking' to you and giving you signs to help you on your path.

Discover the signs and how to understand the messages in this engaging workshop designed to help you tap into your intuition and connect with your helpers in Spirit.
Next dates to be confirmed.​
Contact me
for more information
---
THE POWER OF PRAYER
Discover the power of prayer and how Spirit helps us with our requests for help.

Learn ways to use prayer to help yourself and others.Connect with the Spiritual and Angelic Realms to boost your prayer power.
Next dates to be confirmed.​
Contact me
for more information
---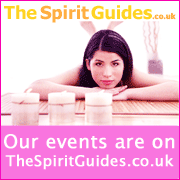 Feedback from previous workshop attendees:
​
Very open, calming experience. Easily followed by newbies. Good size class. Easy to talk, ask questions, and to listen. Very happy.
Charlotte Keep

A really lovely energy to relax in and connect with my Spirit Guide (birth). Was really very special to discover who it was.
Kate Palmer-Marshallsay

Brilliant, very impressed. Affordable - good value. Really enjoyed the evening.
Amanda

I felt like I really touched with my birth Guide. It was emotional but extremely interesting. It was nice to get in touch and be able to connect.
Tasha Levett

Great workshop, thoroughly enjoyed it. It was lovely to connect with my Spirit Guide. I enjoyed the group session and hearing about what everyone else got.
Emma Rickwood

The Evening with your Spirit Guides workshop gave me more insight for what to do to ask questions of my Spirit Guides and loved ones.
Gill

Really enjoyed the workshop and would definitely do it again. It has allowed me to feel more balanced. I loved it!
Erin

Thank you Louise, what a wonderful introduction to my spirit guide. Even if his name is Kevin! ; ) Thank you!
Vicky Goodluck

Fun, friendly and open evening. Very enjoyable. Felt able to be open about my experiences.
Alison

Lovely workshop with a really good energy. Louise is amazing. I will definitely attend more workshops with her. Atmosphere was great and emotional. Very pleased with everything.
Rosi

Lovely, warm and welcoming. Insightful. Good tips and discussions on how to connect. Nice small group to connect and share with in a safe place. A lot of great info given.
Jemma

Enjoyed the workshop and the information given. Had a pleasant afternoon and it was great to contact my birth guide. Great also it was a small group. Really good.
WB

I enjoyed the course and learnt a lot about my spirit guide. The group was amazing.
Pam

I've had a really lovely time and learnt absolutely loads. You provided so many interesting insights and I feel ready to look out with a new perspective, so, thank you! A really enjoyable evening!
Alicia

Very enjoyable evening - very relaxing and funny - interesting and a journey of discovery - Thank you!
Anon

This evening has been enlightening. Useful, welcoming and well timed.
Clarissa Friend

My feedback rating of the workshop is excellent and welcoming.
Linda Lee

A lovely environment, relaxing and quiet. Feeling calm and 'looked after' throughout the session. Such an 'opening' time. Louise is a wonderful light energy.
Andrea

Learned a lot. Loved the new information about Guides - really exciting! Can't wait to do some practice at home!
A. Vargas

Very informative and helpful. Loved it!
Julia Myszkowska

A good workshop with lots of useful information and a good length.
Linda







​© 2023 Empower Your Soul